Creating deep

peace & happiness


through sound, song and mantra.
SUN & MOON ALBUM
It's been a long time coming… and it's here.  My first album!  The intention in creating this CD is to share the uplifting sounds of mantra & heart songs with you so you can enjoy listening or sing along … while you're driving, doing yoga, cooking dinner, hanging with your kids or whatever other ways music weaves itself into your life.  
My deepest intention for this project is that the CD will create deep peace and happiness through the inspiration of sound and song, movement, mantra & meditation.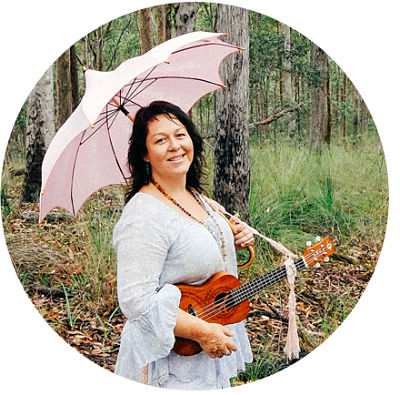 Kate B
…. ♥ creates music for the soul ♥ ….
Chanting, mantra & uplifting inspirational songs from the heart combine with melodic vocals and many strings. She has been a singer for as long as she can remember and first picked up the guitar when she was 14. She has done everything musical short of playing in an orchestra… from folk to blues and cafes to weddings and community choirs. Her journey has more recently carried her back to the world of chanting, mantra and kirtan, revisiting an old passion in the joy of creating uplifting sound with others…. Read more >