Learn to play Ukulele in 2021 – four week challenge with Kate B!
Are you ready to pick up an instrument and learn to play some music?
The exciting news is that I've recently entered world of online teaching!  It's still early days for me but I'm loving it so far, and so are my students!   I'm super excited about the potential of supporting many people to learn to play an instrument, not just those who can make the time to get to a lesson in person.
My offer:
If you've always wanted to play Ukulele, this is a great place to start.  In your own time, in your own home, at your own pace, but with the support of me and each other!  There are PLENTY of courses out there which are free but if you get stuck, you're on your own… The difference is here that I will be with you each step of the way.  We'll have weekly pre recorded lessons you can take when it suits you and a group on Facebook to stay connected.  I'll be dropping in a few times a week to check for any questions.  At the end of the module I'll hold a live Q & A session so I can answer any further questions you might have or help with any challenges!
Perhaps you have:
Hesitated to get started with an instrument because you were told 'we're not musical'
Tried before and failed through lack of support
Or you've compared yourself to others and given up (I'll never catch up to them!)
Or you've struggled to find the time to get to lessons?
"I've followed Kate as a muso for many years, and was keen to take advantage of her online uke course. I've been teaching myself & using a free app for awhile so I thought that while the introductory course might be a little below my current skills, the discipline of enrolling in lessons would be helpful.
Well, wasn't I in for a treat?! Not only is this talented musician an excellent teacher, but the lessons were instructive, helpful, supportive and HEAPS of fun! AND you get to repeat them in your own time – very handy for island strumming, which I still haven't mastered! Thanks Kate, for the fun learning! I really enjoyed it and my skills have improved significantly, even from where I was."  Jennifer, Annerley
Far too many people think that 'you are a musician' and 'I am not'… give me some time and you can be too!   I know the steps needed for you to learn to play an instrument and sing along and SOUND GOOD!   I honestly believe that anyone with the desire to play an instrument can learn. Patience, commitment, fun and time are the key ingredients to success!
"I thoroughly enjoyed Kate's Learn to Play the Ukelele course.  The lessons are well put together with enough content to be interesting and fun but not so much as to be overwhelming.  Nice balance 🙂  The feeling of 'I'm actually getting better at this!" had me enthusiastically returning for each new lesson.  Definitely a sense of achievement!"  Fay, Camp Mountain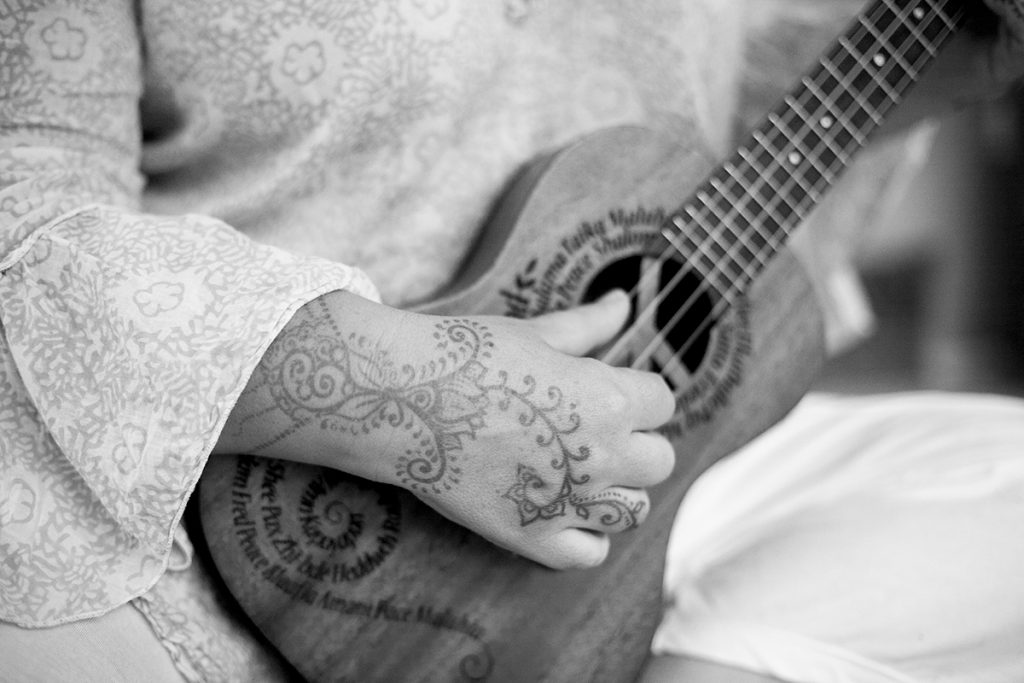 What's included?
Not only will I be addressing the mechanics of holding the instrument, tuning, playing chords & keeping time, but we'll also be look at the psychology of learning and the unhelpful thinking which can distract us from our goal!
I'll be taking you through strumming, reading chord charts, different rhythms & time signatures, finger picking and more.  We'll be learning a bunch of different songs from different genre's including folks, blues, reggae, pop & chanting styles.  Some will be covers and some of my original songs!
We'll be travelling together and going slow and steady, building confidence as we go … so we're able to ensure your success!  Just one little bite at a time.   Your time commitment will be just one hour a week!  That's a 15-20 minute lesson, and only 5 mins of practice a day!
I am not formally trained and I'm only just learning to read music but my strength is years of playing live with lots of different people in a multitude of instruments… Guitar, Uke, Harp, Percussion & Voice.  I don't play solos or scales… not my specialty!   But for me these things were never needed to get to where I am now.  If you'd like to learn these things, I can refer you to someone who can help when we're done.  I'll get you playing and singing around a campfire though!
"I signed up to Kates full ukulele course and have found Kate's teaching style to be so completely enjoyable. Her videos are easy to follow with clear instructions but also super fun. I like that I can keep going back to them to practice over and over. I have also found that instead of sitting with my ukulele and just totally focusing on what I'm suppose to be doing I can sit and just enjoy playing it. Picking up my ukulele isn't a chore it's a joy. Thanks Kate. 😊."  Sallie, Karalee
The details:
Module 1 – 'Getting Started' will run online over four weeks, four times a year.  You can 'arrive late' but there is a generous discount for those who book and pay prior to the start date!
You have the opportunity to sign up for a four week 'Getting Started' online course on learning to play the Ukulele.  This will lead into two other modules, 'Getting Comfey' & 'Getting Confident'!
The first course will be offered at a discounted rate of $97 for four weeks.  
If you're ready to commit to your goal of learning to play and you sign up for all three modules,  you'll save 30%!  That's 16 week course of 3 modules = 4 week intro + 6 + 6 weeks to get you well underway towards being a confident player!   
The full price is $587 but I'm offering $397 for the entire course AND I'll gift you a digital copy of my songbook worth $15 which has chord charts for all the songs on both my albums.  This discount is available for those committing up front for the full 16 weeks.  Subsequent modules (ie if you want to keep going after 4 weeks) will be will be full price (still great value at $37 per lesson!).
Module 1 – 4 weeks – discounted = $97 – (full price – $147)
Module 2 & 3 – 6 weeks each – discounted = $150 – (full price

  

– $220)
Whole course – 16 weeks bundled & discounted = $397 –  (full price

  

– $587)
Anyone can add on a 30 minute individual online lesson with me for an extra $50
I'm limiting each intake to just 20 participants so I can keep track of your progress! 
"Kates beginners ukulele course in a fantastic introduction into the world of the uke. Kate has put together a course in which she shares all aspects of the ukulele and a step by step process on everything you need to know to get start playing almost immediately. There are wonderful resources at your fingertips and videos to play along with. Kate has a fun loving captivating energy which keeps the course interesting and lighthearted. I highly recommend this course for anyone who is keen to pick up a uke even if they are feeling apprehensive I urge you to give it a go you may surprise yourself I know I did ❤ Kat x"  Kat, Landsborough
Here is what some others had to say…
"Loving my ukulele lessons with Kate!   For a few reasons!  The lessons/videos – easy and concise;  I'm not getting left behind – all done at my own pace; I can access whenever, as often as I want/need; Regular live Zoom meetings – all together, Q&A & jam; I can view each lesson, participate if I can – put it aside if need be.
Kate always available – problems, ideas, encouragement etc… Kate is a beautiful soul, she wants us to all enjoy our music & our Ukes, exactly what is happening for me, exactly what I was looking for. 💞👌🎶😘. 😊."  Dianne, Tewantin

"I thoroughly enjoyed Kate's beginner introductory ukulele course. I love how you can learn online at your own pace, but still have check ins and jam sessions along the way. Kate has a beautiful energy about her and her lessons are engaging and instructed well, easy to follow. I highly recommend this course! Thanks for the inspiration Kate, I love playing my uke and seeing how my song list continues to grow. 🤩"  Jemma, Bli Bli
Things to remember:
if you'd like some personal support, you have the option of adding on a private session!
everyone gets access to the our private facebook group for community connection, questions answered and more!
get in touch with Kate before you pay if you've already playing (you might get a discount off the full course!)
if you sign up for the full course now, the discount is generous AND you get a free copy of Kate's songbook
If you've been playing for a while now, I'd love to chat to you before you book.  You might not need all the content of the beginners course BUT i'd like you to run through it anyway so that we're all on the same page for subsequent modules and you haven't missed anything important in the foundation.   (Depending on where you are with your playing this may mean a discount!)
When you're ready to commit, select your course option below, follow the steps and come on in!
See you online soon!
Kate xx
Ok I'M READY!  What's the first step?
Ok I've booked and paid… what next?
I'm ready for my welcome email… I want to make sure I get it…! 
Well done!  That's your first few tasks complete! 
Now keep an eye on your inbox for your welcome email. 
You'll be added to the facebook group as we get closer to the start date!   
See you sssooooonnn!
More happy customers…!
"Loved the online Learn to play Uke course with Kate B. Each lesson had new chords & songs to play along with. I have done a little self teaching on the uke but what I learned with Kate was invaluable & definitely improved my ability to change chords, strum & sing along. Being a part of the course inspired me to keep up my practice which noticeably improved my playing. The course did not disappoint & exceeded my expectations. Thanks Kate 😊."  Rii, Mount Mee

"I have thoroughly enjoyed Kate's lessons – although I have played ukulele for several years, Kate's simple explanations of strumming patterns and offering of alternative patterns and shapes has both improved my confidence and made playing more natural, relaxed and enriching.."  Lea, Deception Bay
If you prefer one on one time, you can book some with Kate here!