FEATURED IN: The Westerner – View Original Article
POSTED BY: LEE OLIVER JULY 30, 2015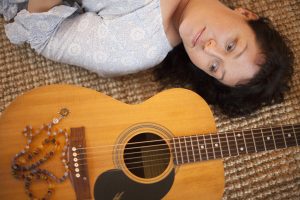 Kate Barzdo's debut album Sun and Moon is an eclectic mix of folk-based music and meditative mantras.
Kate Barzdo won't be offended if her music puts listeners to sleep: she wants her songs to inspire tranquillity.
Music is a spiritual practice for the Camp Mountain resident, who releases music as Kate B.
She says the songs on her debut album Sun and Moon, some running as long as 10 minutes, are designed to "inspire deep peace through movement, mantra and meditation".
For the CD, recorded over a period of five months starting last December, the instrumental all-rounder performed on six and 12-string guitars, ukulele, Earth chimes, crystal bowl and Celtic harp.
"I've been playing guitar for more than 25 years I have recently started to write more originals and felt it was time I put something down (in a recording)," she said.
The eight songs on the CD feature "an eclectic mix of a few different genres".
"Primarily my style is folk, with the instruments of guitar, harp and ukelele fitting beautifully into that category," Kate said.
"Folk is probably the simplest style of music to write and perform as there is a level of simplicity and storytelling inherent.
"There is one song on the album (Earth Turning) which echoes the time I spent playing more of a blues style and I'm really glad I included it."
A yoga teacher of more than 20 years, Kate has included chanting and mantra to "bring a level of ambiance and presence to the music".
"The tricky part was keeping the balance right, making the mantras enjoyable for people to hear and or sing with and also keeping the balance with the music to support them," she said.
"Sometimes just one more or less bar of a line was enough to hit the sweet spot.
"Lyrically the themes are more of an invitation towards peace and connectivity with nature and each other as humans."
Kate also finds connectivity, joy and peace through music.
"Music certainly is a spiritual experience for me but more so a spiritual practice," she explains.
"When I play with others there is a tangible experience of connectivity as we create music together.
"This kind of experience can remind us that we're all connected and we're all the same, if we let it."
Kate said she has received some "awesome feedback" about the Sun and Moon.
"Generally a debut (recording) might be a little more on the simple side so this highly produced and polished CD has left folks surprised and delighted," she said.
"'It'll be on high rotation' is probably the best feedback a girl can get other than, 'It put me to sleep… in a good way!'"
Kate B will launch Sun and Moon at the Sattva Yoga Centre, 225 Mount Glorious Road, Samford Valley on 1 August at 7pm.
It is part of a six-date tour that also includes visits to Yandina, Hervey Bay, Gold Goast, Byron Bay and Maleny.
Keyboard player and vocalist Brian Martin and percussionist Caroline Hammond will join Kate B onstage while numerous guest artists, playing instruments such as Native American drone flute, trumpet, didgeridoo, violin and slide guitar, will "join in for some of the gigs".
Go to katebmusic.bandcamp.com to listen to and download Sun and Moon and order a physical CD copy of the album.