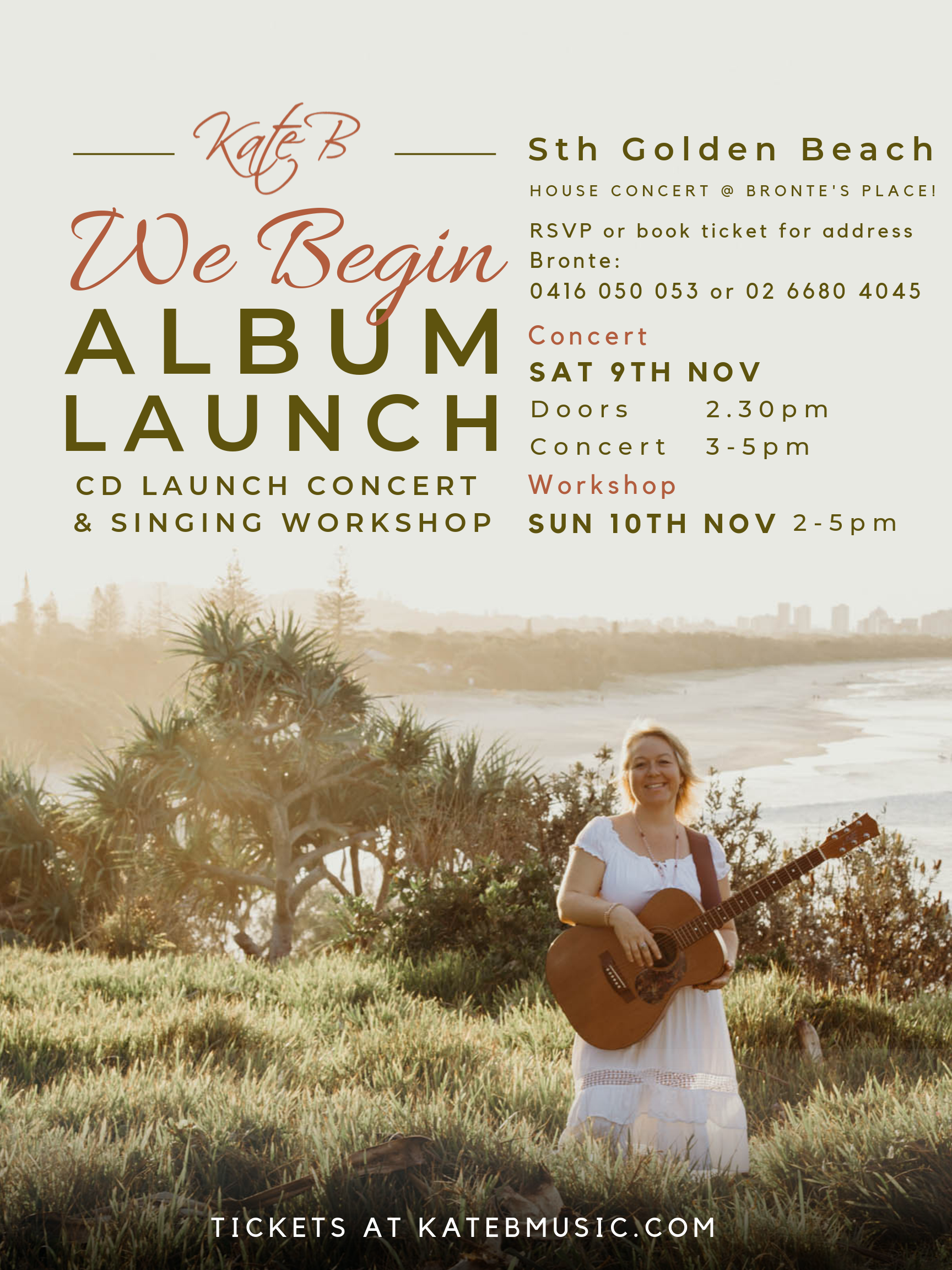 You're invited to join us to celebrate the launch of my long-awaited second album 'We Begin'.
Bring a friend and a cushion to enjoy a cosy evening, surrounded by beautiful souls, immersed in the musical journey of 'We Begin'.
Presales close the day before.  Tickets available on the night at the door.
You can sing, you can rest, you can enjoy the vibe!
I can't wait to see you there! ♥
Both the concert and workshop will be hosted at Bronte's home (…so an enormous thank you to Bronte for her generosity in offering her space)!
The address will be provided upon ticket purchase or RSVP with Bronte on 0416 050 053 or (02) 6680 4045.
Presales close the day before.  Tickets available on the afternoon at the door.
Concert
When | Saturday, 9th November 2019 | Doors ~ 2:30pm
Concert ~ 3-5pm
Tickets | $20 ($25 on the door)
Workshop
When | Sunday, 10th November 2019, 2-5 pm
Tickets | $45 ($50 on the door)
Bundle Concert & Workshop
Tickets | $60 ($75 on the door)
CD's, album downloads and USBs will be available for purchase on the night.
The singing workshop … 
Through harmony, sound, movement and rhythm we will travel together into sacred spaces, nurturing ourselves, holding each other and sharing our voices and our hearts.  Come and discover your voice and learn how to sing from the heart leaving behind any 'stories' about what singing is and surrendering to your innate voice wisdom.
Kate will share with you an easeful way to find your natural voice and range, learn how to stay in tune, sing from a place of relaxed deep connection and sing your heart out!  Lets together discover your natural singing confidence! Be inspired!