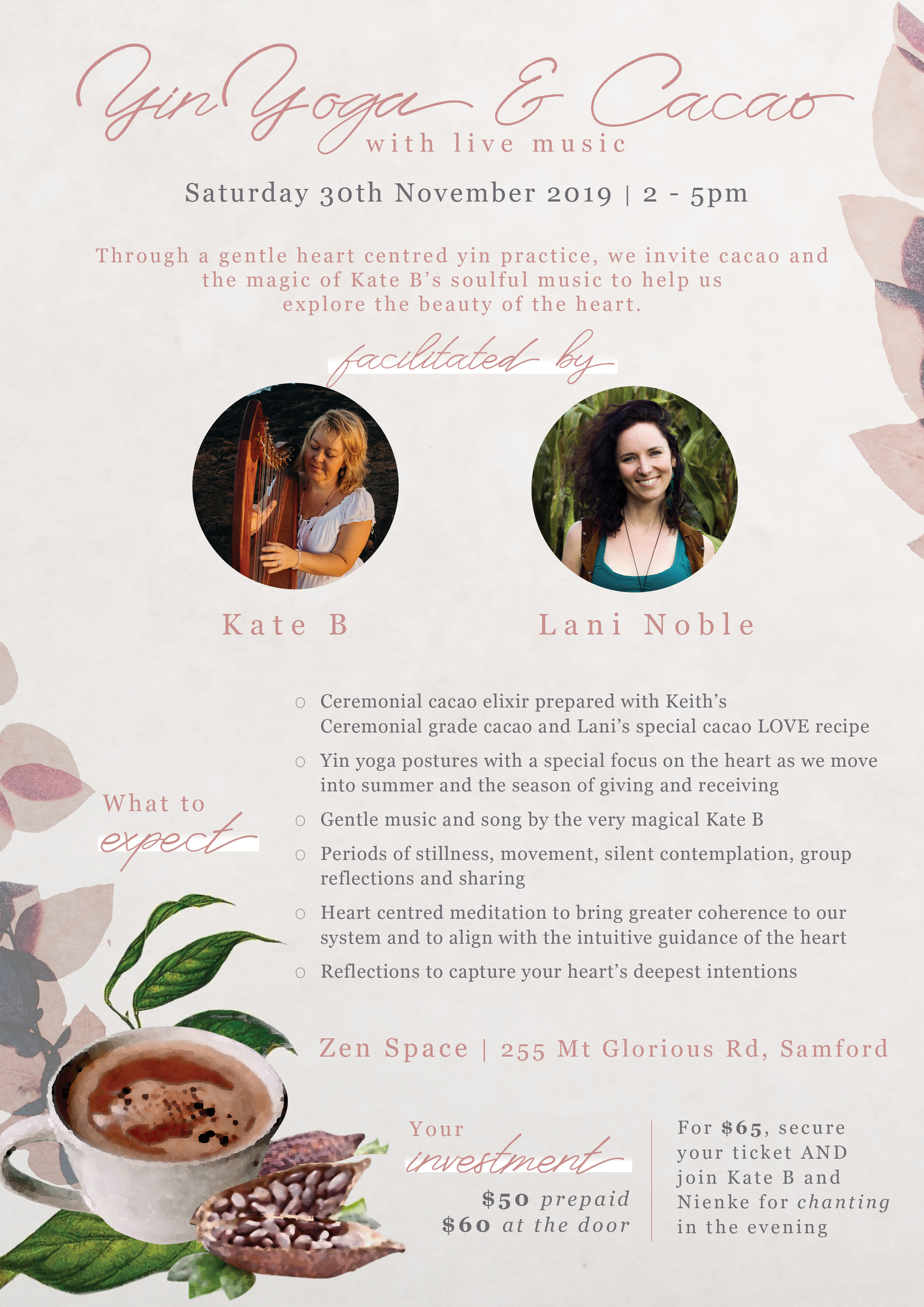 Combining all of our favourite things….join us for a special heart opening afternoon of Yin Yoga and Cacao with Live Music before the Christmas busyness kicks in.
Through a gentle heart centred yin practice, we invite cacao and the magic of Kate's soulful music to help us explore the beauty of the heart. Releasing any layers that keep us from living our fullest, sweetest, most wholehearted life you can expect to leave feeling rested, reconnected and recharged.
☾ Ceremonial cacao elixir prepared with Keith's Ceremonial grade cacao and Lani's special cacao LOVE recipe
☾ Yin yoga postures with a special focus on the heart as we move into summer and the season of giving and receiving
☾ Gentle music and song provided by the very magical Kate B
☾ Periods of stillness, movement, silent contemplation, group reflections and sharing
☾ Heart centred meditation to bring greater coherence to our system and to align with the intuitive guidance of the heart
☾ Reflections to capture your heart's deepest intentions
Cacao is a potent superfood and natural mood elevator, rich in antioxidants, magnesium and iron offering support for mind, body & heart. At a deeper level, cacao is also a beautiful tool to help you connect with your creativity and the naturalness, joy, warmth and wisdom of the Heart. Inspired by the power ceremonial cacao provides in HEALING, CREATIVITY and CONNECTION Perth based Lani holds a deeply nurturing and supportive space inviting you to explore and embrace every part of yourself.
"I believe the magic of the most beautiful heart-centred teachers – particularly plant medicines is to reveal to you the gifts that already lay inside of you. To help you appreciate the subtleties of this beautiful life." ~ Lani
Something very special happens when we gather with such a pure heart intention, cultivating an attitude of compassion and gratitude we increase harmony, connectedness, stability and a sense of inner strength, resilience and peace. Come and share with a like-minded community and allow your body, mind and heart to be nourished by heart connections, soulful sounds and chocolate goodness.
🌿Who are your facilitators?
Lani Noble
Lani's heart, soul and spirit rest in a love for cacao and women's embodiment practices. She is a qualified yoga and meditation instructor and has studied Grief, Loss and Trauma counselling, Women's embodiment practices, Yoga for Trauma, Meditation, Psoas release, Sacred Sexuality and Tantra. After travelling the world for 7 years diving deep into heart centred practices and self enquiry she now supports others in opening their hearts and connecting with their deepest truth and passion. Drawing from her own direct experience she guides you on a journey through the body into the heart.
Kate B
Kate plays her harp, ukulele & guitar, sharing sweet original sounds. You can rest, you can sing, you can enjoy the vibe! Seek rest for your soul no more: it is here. Here you will find words of peace, love & joy that float in mellifluous contemplation, songs to uplift the heart, songs to be still and rest amongst and songs to slow dance. With a modern infusion of eclectic styles including traditional Sanskrit chants, beautiful folk songs and sweet harmonies, this music is truly a pleasure to the ear and the heart.
The Details
When | 2-5 pm, Saturday 30th November 2019
Where | Zen Space, 255 Mt Glorious Rd, Samford QLD
Tickets | $50 prepaid OR $60 at the door OR $65 bundle, including Yin, Cacao AND a magical evening of Kirtan with Kate B & Nienke.